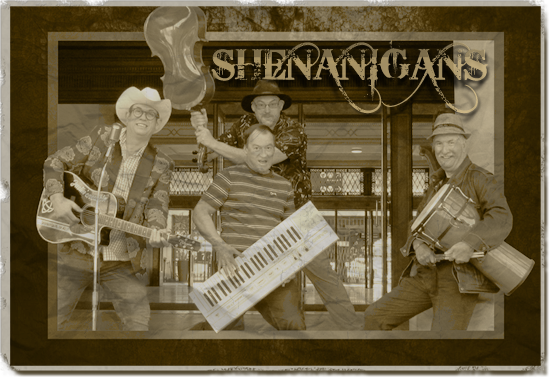 Shenanigans are one of New Zealand's most accomplished and sought-after bands in Irish Traditional Music today. This young and exciting group creates a sound that is full of energy & innovation, whilst all the time remaining true to their traditional roots.

"Shenanigans was THE breakout band at the gardens Magic in wellington nz".Their energy was infectious and the crowd response was incredible. They were able to connect to all ages, from Mohawked teenagers, to their grandparents. I had heard good things about them, but the musicianship, and stage presence playing live exceeded every expectation I had." – Alan Thompson Director of Irish music Appreciation society 2013.

Shenanigans garnered much critical acclaim in recent years, even being compared to super groups such as by respected New Zealand Musician Magazine. Their meteoric rise in the music world was given a massive boost in 2011 when they were Released their album Live 2005!. Shenanigans subsequently went on to receive the "Best live act on the Good Morning show" from well-respected Tv Presenter and were also named "Best Jokers" at The New Zealand Jokers Awards in 2012.

Following the tremendous success of their debut album "ballyscullymuckery", the group's profile was further raised with the release of their follow up title, "Live in your Lounge" in 2018.Nz Musician Magazine described it as having "so many good tracks, so much energy, a band in full control and having such fun yet well able to bring things down to a tearful pause". Most recently Shenanigans was awarded "Top Band of few" by the a guy down the pub.


Shenanigans is one of New Zealands hottest bands. Specializing in elegant live preformances, Shenanigans is the perfect choice for your event. Although based in Wellington, we perform regularly throughout the country; including Auckland, Christchurch, and Masterton. Shenanigans is a band seriously worth considering for the best possible wedding music that inspires non-stop dancing. In addition to weddings, we often play at charity events, corporate functions, catered affairs, and private parties. Shenanigans plays the best dance music ever written from the 1930's - present, which includes Irish Classics, Country, Rock-n-Roll, Ethnic, Group Participation, and much more. In addition, we keep our repertoire as cool as we can by constantly learning everyone's favourite songs. This hardworking Wellington wedding band spends a tremendous amount of time learning, reviewing, and ultimately perfecting the music required for each engagement. We play everything live without the artificial computerized support that most of our competitors rely on these days. You will notice that Shenanigans performs every song with a celtic fun twist. There is no better choice for wedding music.


Guess Where we are playing This Paddy's Day . We are live all night the Rose and Shamrock 2021 from 11am till late , we attempt the longest list of Irish music played under one roof in one night , and with a little help from some friends we will have a huge night, so expect some amazing Harmonica Playing , some amazing Bruce Springsteen Seegar Sessions ,Womanly warm vocals , even Some Irish dancing followed by a special performance , from a new up and coming band..
(5 photos)

Our contact phone is: 0274958462


The result "SHENANIGANS – LIVE IN YOUR LOUNGE" CD on sale now for $20!


| | |
| --- | --- |
| | "'Tis our Luck to Know Ya." |
'Tis Our Luck To Know Ya!
- Justin, Jane, Maurice, and Neha.
We are LIVE all day and night at your place :)

Justin 0274958462
www.shenanigans.co.nz
Upon capture, please contact Sheriff J. Reed
on 0274 958462 or email HERE.

Looking for a more economical alternative? Then why not consider Shenanigans as a duo! Experience the energy and fun of Shenanigans, but in a smaller package. Justin and Jane can provide a great time.
These people are VERY APPROACHABLE and extremely talented ...
... they may induce the need to dance.
Hire Shenanigans for your corporate or wedding function. It's a whole lotta entertainment guaranteed to create a memorable event.
"Fantastic night you guys. Brilliant music and great fun. A million thanks." - Ro & Lyle
Click here for a list of songs played by the band. It includes many contemporary songs, as well as some more traditional tunes.
© Copyright Shenanigans 2013
- all rights reserved
© Copyright 2018 - Shenanigans.
All Rights Reserved